Carolyn Hall, daughter of Bobby and Julia Hall, spent four months in La Paz, Bolivia, teaching at a Christian school affiliated with the Network of International Christian Schools. Carolyn chose Bolivia among the positions available because she wanted to teach in a third-world country. The school, comprised primarily of Bolivians from Catholic families, offered an American education transferable to a U.S. college. Carolyn taught sixth grade math and kindergarten, also leading chapel time for preschool through second grade-aged children.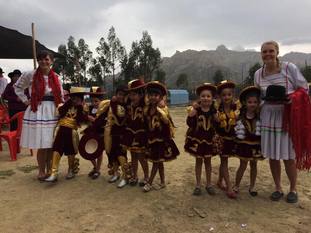 Difficulty in communicating with the people outside the school was the biggest hurdle for Carolyn who is not fluent in Spanish. The students in her school were just learning English and so Carolyn had to adjust her teaching vocabulary to accommodate the children's new language skills. As for Carolyn, she found the Bolivians friendly and patient with her little bit of Spanish as she traveled around the city. She was also able to find a church offering headsets with English translations of the service.
Carolyn says that having been on mission trips prepared her to adjust more easily to a different culture and language. Her experiences in and out of the country helped especially when she was asked to disciple two non-believing ninth grade girls in the school. A bit scared, she remembered mission trips past, and thought, "Wait. I've done this before!". Having shared the Gospel with people from other countries and backgrounds gave her the confidence to move forward with discipling the girls.
Carolyn, called to missions when she was in high school, says that this experience showed her that she could handle living in another country longer than the length of a mission trip. She says, "The language barrier made it hard but I always found joy because I knew it was supposed to be there. I learned what it was like to be in a different culture and make it my home."
Carolyn, for now, will be teaching fifth grade science and social studies at Inman Intermediate School this fall, but is looking forward to what God has for her overseas in the future.
After student teaching at Watauga High School in Boone, NC, Emily Robinson, daughter of Rich and Debbie Robinson, traveled this April to London, England to student teach at The Wroxham School in Potters Bar, through Appalachian State University's education department. Teaching in the "Reception" level (4K) and Level 1 (Kindergarten), Emily taught beginning reading skills and math to the thirty students in the classroom, quite a difference from her Drama 1 class at Watauga High.
Teaching overseas not only offered her a change of environment, from the mountains of North Carolina to city living, but afforded her the opportunity to observe new teaching strategies applicable to the children in her future classroom.
Previous mission trips were a great preparation for traveling and living in a different country. For Emily, they taught her to easily adjust to the culture and to be respectful of the people and their customs. She says that, had she not had experience outside of the U.S., she would not have been as confident to not only go overseas, but to travel in the city on her own.
While based in London, she traveled out of England on weekends and during the school's spring holiday, to Ireland, Paris and Amsterdam with two fellow student teachers. Prior mission trips came in handy there also, preparing her to travel with other people, deal with foreign languages and even to pack efficiently!
Emily will be teaching at Wilson Hall School in Sumter in the fall. For now, she considers her classroom her mission field and hopes to live overseas in the future.