What is Discipleship at Church at The Mill?
We believe every follower of Church at The Mill needs to be genuinely loved through a Small Group, specifically trained through an equipping class, intentionally challenged, or compassionately helped in our biblical counseling ministry as they seek to grow in their relationship with Christ.
View our four environments where discipleship happens below.
Four Environments, One Goal... Make Disciples

SMALL GROUPS
These groups of 10-20 provide the opportunity for every believer to experience the genuine love of God's people as they gather around his word each week. Groups meet on our campus and in homes across Spartanburg County.

EQUIPPING CLASSES
These multi-generational, semester-long classes of 20-40 are designed to help each believer explore specific topics or portions of God's word. They are made up of people from all stages of life who want to be specifically trained in order to fulfill their call as a disciple of Jesus. Topics range from parenting to deep dives of specific books of the Bible.

MENTOR GROUPS
These groups allow believers to be intentionally challenged as they engage in a one-on-one discipleship relationship around God's word. They provide participants with a place to grow deeply through meaningful accountability, prayer and Bible study together.

BIBLICAL COUNSELING
Our Biblical Counseling ministry offers compassionate help from God's word to those who are seeking hope and help in times of crisis. We believe that God's word is sufficient for the trials and troubles of this world, and that through His Word, we find hope that transcends even our most difficult struggles and circumstances.
Do you need help finding one of these four environments to be a part of? We'd love to get you connected in a group or class. Please fill out the short help form below so that our team can assist you.
ACCESS OUR SMALL GROUP CURRICULUM
MORE THAN EVER: A JOURNEY OF GENEROSITY is a Small Group curriculum designed to reveal God's invitation to live generously and why it is essential now more than ever in our personal lives as well as the life of the Church. We pray that as this journey of generosity unfolds, you will choose to partner with God more than you ever have before as a response to His grace- God's generosity on display. Acts 5:14 reminds us of what happens when Christ followers choose to generously invest their lives for the cause of Christ: "And more than ever believers were added to the Lord, multitudes of both men and women." Across this four-week curriculum, we will discover the importance of understanding: A GENEROUS VISION, A GENEROUS GOD, A GENEROUS SURRENDER, and A GENEROUS LIFE. More than ever, we want to give every member of Church at The Mill the opportunity to engage in the spiritual and financial journey of supporting Church at The Mill's vision to become a deeply faithful, remarkably healthy, highly impactful multi-site church. Prayerfully join us on the journey. The time is now, more than ever.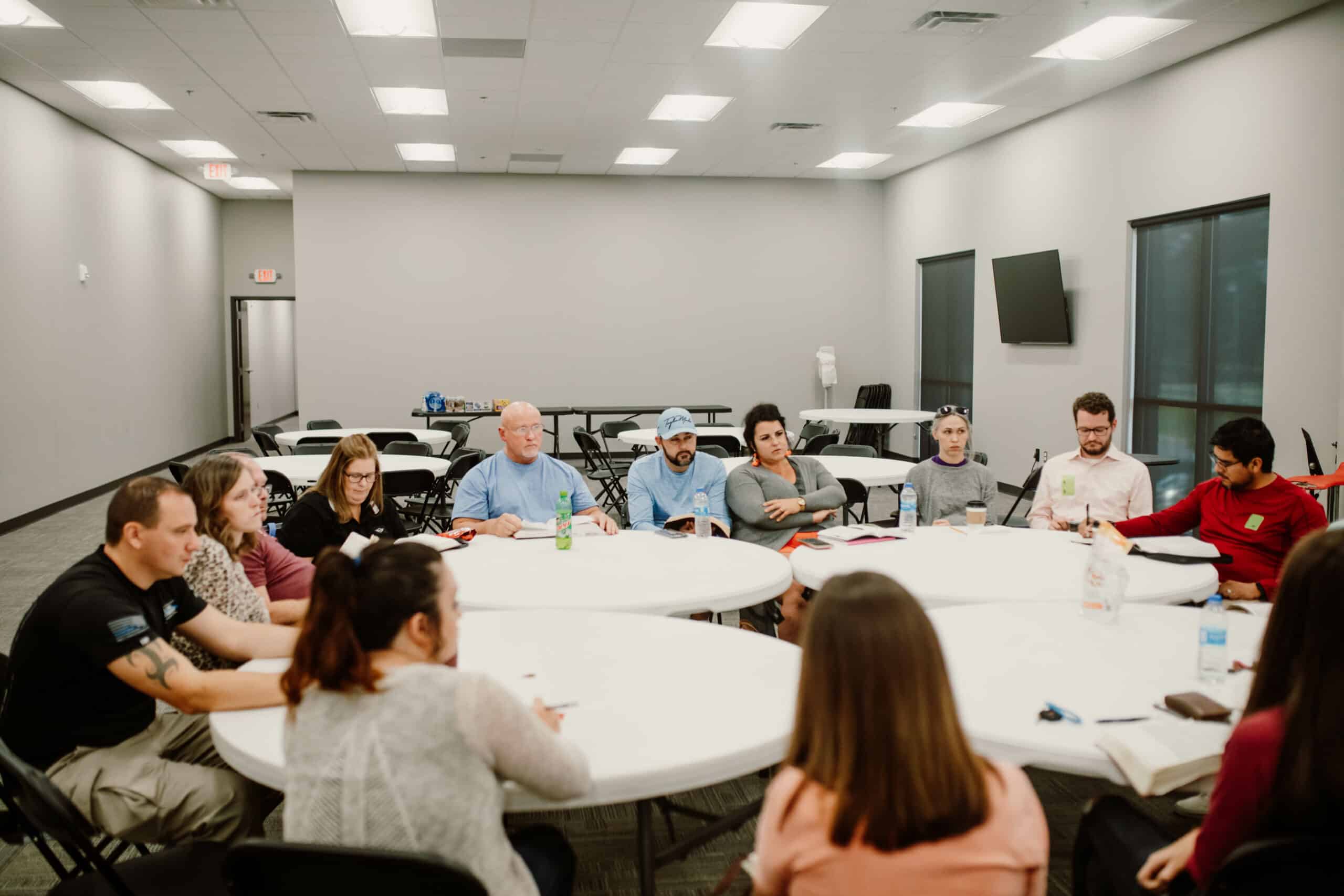 INTERESTED IN LEADING A GROUP, CLASS, OR BECOMING A COUNSELOR?
Do you love people, desire community, and enjoy developing new leaders? If so, adult leadership may be a great fit for you! If you are interested in becoming a Small Group Leader, Equpping Class Teacher, Mentor Group Leader, or even a biblical counselor at Church at The Mill, please fill out the interest form below.
FREQUENTLY ASKED QUESTIONS
Children and Student Programming are available for various groups across our campus, be sure to confirm with your Group Leader that the necessary programming is available prior to registration. If you have additional questions, please fill out our Help Form, and a member of our staff will be glad to help answer those questions.
Small Groups work with the church to find a curriculum that will work well for that particular group. In addition, Small Groups may also be asked to go through the curriculum provided by the church.
The best way to join a group or class is through GroupLink. This is an event we host during early Spring and Fall that allows people to meet group leaders, learn about groups, and register for the group or class that works best for them and their schedule. The next upcoming GroupLink is August 20th and 27th immediately following both services at all campuses. 
People are also able to join a group or class throughout the year by registering using the registration button above or clicking the help form to connect with someone in our Adult Ministry to help find a group.